The saddle is crucial to be comfortable and achieve maximum performance on the bike. The feeling between the athlete and the saddle must be total.
We went more in detail on these aspects with one of our off-road athletes, Nicolas Samparisi of the KTM Alchemist Brenta Brakes team, who explains the reasons that led him to use the F30 for cyclocross and F30C for Mtb.
F30 and F30C
Both saddles are born from our patented "Designed on Your Body" ergonomics and share the same unique features: the wide central channel avoids genital and prostatic compression, the "eagle's beak" tip guarantees maximum comfort when riding in a very low position. The rail, available in two versions - AISI 304 stainless steel tube and carbon fiber - allows a wide fore-and-aft saddle adjustment, thanks to its unmatched length.
The padding is minimal and made of foamed elastomer, a very flexible material with great elastic responsiveness.
The F30 and F30C are unisex and suggested for cyclists with sit bones width from 11.6 to 15 cm.
The difference between them is in the length: F30 has a standard length, F30C is its short version.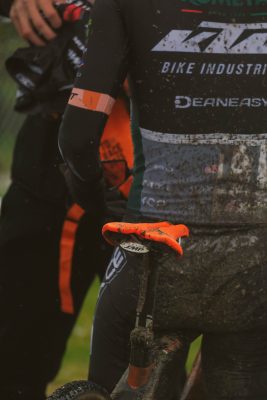 The field test with Nicolas Samparisi
"I've been using SMP saddles since 2009, following their developments over the years. Composit was my first model, but since the new F Series was created, I started riding on both F30 and F30C, which have been a real revolution for me.
In Cyclocross, a discipline where we move a lot on the saddle, I prefer a longer model especially in muddy conditions. On mostly wet and muddy terrain, the F30 gives me more thrust on the pedals, even on the tip of the saddle.
Another aspect to consider about the F30 are the two rear "flaps", very useful when pedaling backwards and the saddle is wet: in this way backwards slipping is avoided. In the Mtb Marathon we ride for 5/6 hours, so comfort is the key factor in choosing the saddle, even more than in Cyclocross, where a race lasts about an hour.
For Cross Country and Marathon I use the F30C, the short version of the F30, which helps me a lot while riding off-the-saddle. Like F30, the F30C also gives a lot of freedom of movement on the pedals. As the sitting area is similar, the choice between them is very personal.
My advice to all bikers is: "When you are buying a saddle for your bike, both road and off-road, always put comfort first. Only on a comfortable saddle we can enjoy the ride and get the best performance!"